ABOUT ME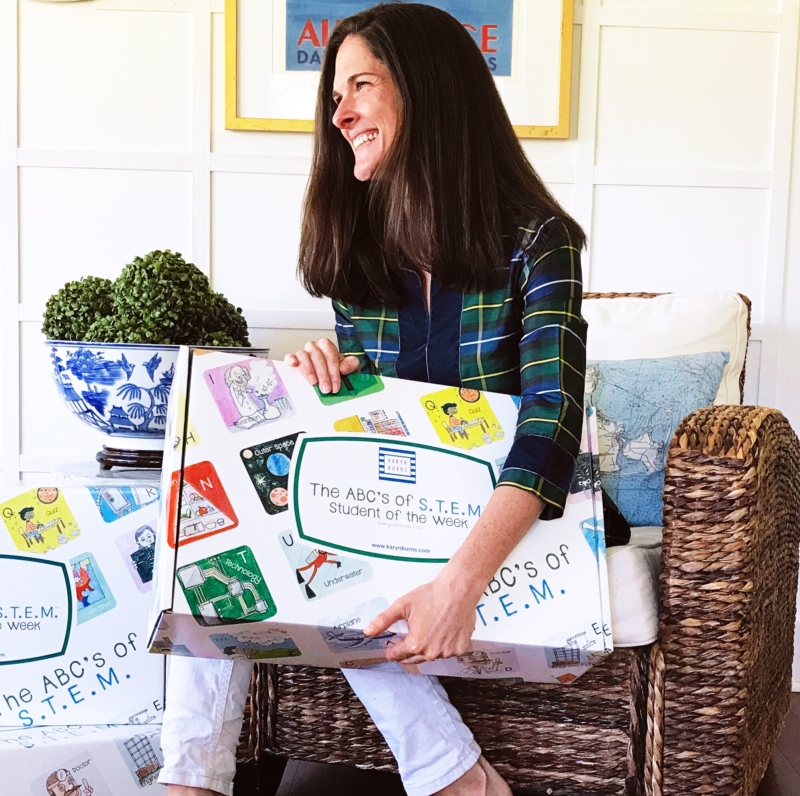 Hello! I'm Karyn! I'm wife to Brian, mother to Jack (13), Charlie (10), and Rory (7), resident of Manlius, New York, owner of Karyn Burns ABC's and creator of The ABC's of STEM Student of the Week program!
Full disclosure, I started the ABC's line as a distraction from my crumbling life when I was going through some dark times back in 2014. Years before this, while expecting my children in my first marriage, I created some original artwork depicting the ABC's of some of our favorite places to visit. While going through my divorce, I decided to start selling them, as I was in desperate need of filling some time as the boys and I struggled to adjust. Soon my work started filling some of your favorite gift shops around New England, and then some of your favorite collegiate campus bookstores! Karyn Burns ABC's line has now launched into classrooms through STEM!
My newest product line is something I call my true labor: The ABC's of STEM Student of the Week classroom program. As a lobbyist to manufacturers, I had first hand knowledge of their growing workforce concerns. I was already in the process of creating an ABC's of STEM poster and placemat to add to my ever-growing line of products when my middle son, Charlie, came home from school as "Star Student of the Week." Though his week of special activities seemed trivial (and to be honest, a little inconvenient at the time), we read books, and even made cookies from scratch, on a Thursday!  He returned to school with a poster he created about his week and I was able to witness first hand how implementing family project-based learning was treasured by Charlie, and to be honest, me as well.  I took this experience, thought about the challenges I continued to hear about STEM and early engagement and said, "Why not develop a program where STEM takes the center stage?" I fused the two concepts together, and after two years of research and input from industry and academia, I launched a soup-to-nuts Student of the Week program that teachers can implement in their classrooms. And get this: at no cost to the teacher, or the district!
As part of this program, Karyn Burns ABC' partners with community supporting businesses that want to help encourage STEM education in any way they can. Together with our partners, we are bringing STEM directly into your classrooms and into the homes of your students and their families.
I hope you enjoy learning a little more about what we do. If you would like to contact me about our programming, ways to get involved, or just to say hi, I would love to hear from you!  
Thanks for stopping by!
PS:  Looking for our destination line of products?  Don't worry they are still available, by visiting here!